The Mousseau, DeLuca, Dinham, Porter & Pollock Law Firm was originally founded in 1961 by Max N. Mousseau, Q.C. Mr. Mousseau was called to the bar in 1949, and was considered to be a leading municipal law expert and general counsel in the County of Essex. In 1966, Edward J Dube and Armando F. DeLuca partnered with Max Mousseau and the firm became known as Mousseau, Dube, DeLuca. Their professional commitment and leadership in community affairs has been continued by the current partners Thomas R. Porter, Richard L. Pollock, Ilias Kiritsis, Jeffrey W. Nanson, Jennifer S. Rooke and Zuzana Szasz.
The McPherson, Prince & Geddes Law Firm was founded in 1923 by Norman J. McLarty, Q.C. and Gordon L. Fraser, Q.C. In 1934 McLarty moved to Ottawa as the Secretary of State in the Cabinet of Mackenzie King. Leon Z. McPherson joined the firm in 1945 and, upon the death of McLarty, the firm name became Fraser & McPherson. In 1955, Walter H. Prince joined the firm as an associate, followed by Hugh B. Geddes in 1958. On April 1, 1965, a new partnership was formed under the name, McPherson, Prince & Geddes. As one of the longest established law practices in Windsor, the firm has provided capable and diversified legal services to many of the most prominent individuals and companies in the area.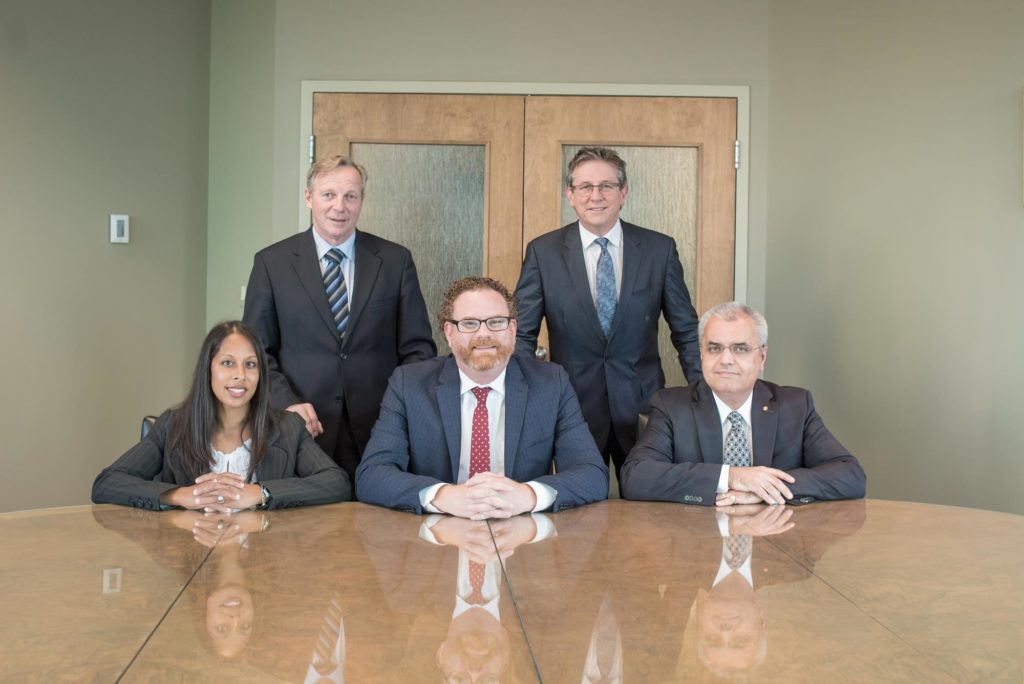 The two Firms merged on January 1, 2001 as Mousseau, Deluca, McPherson, Prince LLP and continue to offer comprehensive legal services in the areas of business and corporate law, wills and estates, family law, civil litigation, personal injury claims, employment law, real estate, land use planning and municipal law.
We are a full service law firm that continues to provide a broad range of legal services. Our firm also acts as an Agent for the Director of Public Prosecutions (Canada) and as solicitors for the Town of Amherstburg.
Our Law Firm is committed to fostering the education and training of law students.
Mousseau DeLuca McPherson Prince LLP is a full service law firm offering the articling student a wide variety of legal matters into which they can immerse themselves on a daily basis. There is no formal rotation for the articling term and as such the articling student will typically deal with numerous matters during the full term of their articles, including federal criminal prosecutions, civil litigation, family law, real estate law, municipal law, and commercial transactions.
During the articling term the articling student will be involved with various legal and administrative duties such as drafting letters to clients, conducting legal research, preparing legal memoranda, preparing witnesses or clients for trial, preparing for discoveries, attending mediations, motions and settlement conferences. The articling student will learn skills and responsibilities associated with administrative functions required for the carriage and maintenance of files from start to finish.
As an articling student at Mousseau DeLuca McPherson Prince LLP, you obtain an abundance of court room experience. You may be in court on a daily basis representing the Director of Public Prosecutions in the Ontario Court of Justice, or representing the Town of Amherstburg and the Ministry of Natural Resources in the Provincial Offences Court. In addition, as the articling student has full carriage of small claims court files, you would conduct any trials that arise out of those matters.
The articling student works closely, and in conjunction with, the lawyers at the firm on a daily basis and will be able to obtain an invaluable, well-rounded articling experience.
Main Office:
Suite 200 – 525 Windsor Avenue
Windsor, ON N9J 1J4
Phone: (519) 258-0615
Phone: (519) 258-1236
Fax: (519) 977-1173
Email: lawyers@mousseaulaw.com
Mousseau DeLuca MacPherson Prince
Lakeshore/Belle River Office:
473 Notre Dame Street Suite 4 - P.O. Box 279
Belle River, ON NOR 1AO
Phone: (519) 728-2912
Email: lawyers@mousseaulaw.com

Mousseau DeLuca MacPherson Prince